Business disruption has forced learning providers to pivot from mostly doing face-to-face education to relying on a technology interface. This digital trend is not predicted to reverse, in part, because of the switch to cloud-based technology. At the same time, training and eLearning organizations have learned in leaps and bounds from the virtual shift brought about by the Covid pandemic and work-from-home shift.
For those who are putting together a virtual or eLearning program or fine-tuning an existing one, it is essential to know what it takes to make digitally-assisted learning successful. Organizations have adapted by creating virtual learning programs that are just as effective as in-person formats.  Three experts in digital adoption and training highlight main areas of interest and give advice and share their experiences on:
Moving successfully from in-person to online learning
Virtual learning vs. In-person learning – Which is better?
Creating a Virtual Learning Program: To-Do Checklist
Learning on demand: Best formats
The future of digital adoption

What did training organisations learn in the switch from in-person to online learning?
Training changed when Covid hit
Learning providers went through a bit of a rollercoaster ride when running learning programs quickly moved to a virtual format. In the sudden digital shift, everything and everyone was on Zoom or Teams, delivering learning just like they normally did. At first, organizations moved learning programs to virtual format on a one-to-one basis but soon found it didn't work. Learning organizations found that the same transfer of knowledge does not take place.
The virtual shift has not only affected learning but also the skills required of trainers & curriculum builders has changed.
From this time of tumult, some training organizations have come out on top. They have learned that it's a necessity to accommodate and to change–on the learning and development side on behalf of employees but also on the instructional design side.
We're in a very unique position in digital adoption right now. We're at a crossroads and we have a choice to make regarding digital adoption. Do we go back to where we were or do we start from where we are now? I think that, as an industry, we need to continue on the path we've started, (that's been thrust upon us) and get better. I think going back right now is a mistake. Let's continue on from where we are now. There's no need to go back.
Louis Trahan​, CEO Learngistics
Virtual learning is effective learning
Louis Trahan is an expert in the logistics surrounding learning. His organization assists in finding and placing trainers and tailoring learning programs and learning software for businesses. Learngistics came into being during the shift from in-person, event-based learning to online and virtual learning. Louis reveals that overall, they find that virtual learning is effective when it's done correctly and advises companies to seriously consider the opportunity cost of in-person meetings & training before pulling employees out for training days.
Virtual learning and in-person learning are not the same
Contraty to popular belief, virtual learning is not all bad. In fact, it can be better than in-person learning. It is important to understand, according to the Learngistics CEO, that live learning can't just be movedn to a virtual format. It must be refactored. Refactoring means breaking up learning into smaller chunks and taking a whole list of things into consideration–like instructors' skillsets, technology, and the support team. Instructors had to learn how to present on camera –and much more.
It can be better
Once set up properly and fine tuned, virtual learning can be better than in-person learning. The digital experience isn't hindered by place, time, or the number of seats like in a traditional experience. Better yet, with eLearning solutions, information can be delivered on-demand to users at exactly the time and place they need it, as many times as they need it.

Training for virtual & eLearning is not the same as training for traditional learning.
No matter what you were teaching before, the way you were teaching it isn't going to work in a live format.
Louis Trahan, CEO Learngistics
Checklist: To-do's for creating virtual learning programs
Build in time for groups to have the knowledge transfer. Everything takes a little bit longer to run virtually (even though a few seconds in a virtual setup can feel like a few minutes).
Engagement is key. Virtual learning programs require more breakout rooms (and less time between breaks) for maximizing engagement.
Virtual programs are hard on instructors. Instructors must learn to use the technology and to connect online with participants. Many have been left to their own devices to adjust and problem-solve. This has led to a trend of instructor burnout and fatigue. Smart companies have learned how to address that.
Create two different experiences. Don't let your virtual program inherit all the disadvantages from the classroom drain. Remember that virtual programs don't necessarily have the same restrictions on time or on the number of people that can be trained.
Virtual producers are a need-to-have, not a nice-to-have. Add a producer to support the instructor. It's hard enough in a live classroom to teach 25 people. To teach 50 and on a new platform, a producer needs to be added that will help manage the technology, and help the instructor to keep the focus. To keep the instruction keep the connection with the learners.

Give instructors time to learn new technology.
One of the biggest thought changes we had to have was in how often it had to be in what type of engagement would work online.
Louis Trahan, CEO Learngistics
Don't bring the restrictions of in-person learning to the virtual experience.
Joachim Schiermacher, CEO ClickLearn
I notice a huge difference trying to manage the technology while I'm trying to manage my curriculum and the students at the same time.
Rick McCutcheon, Dynamics 365 MVP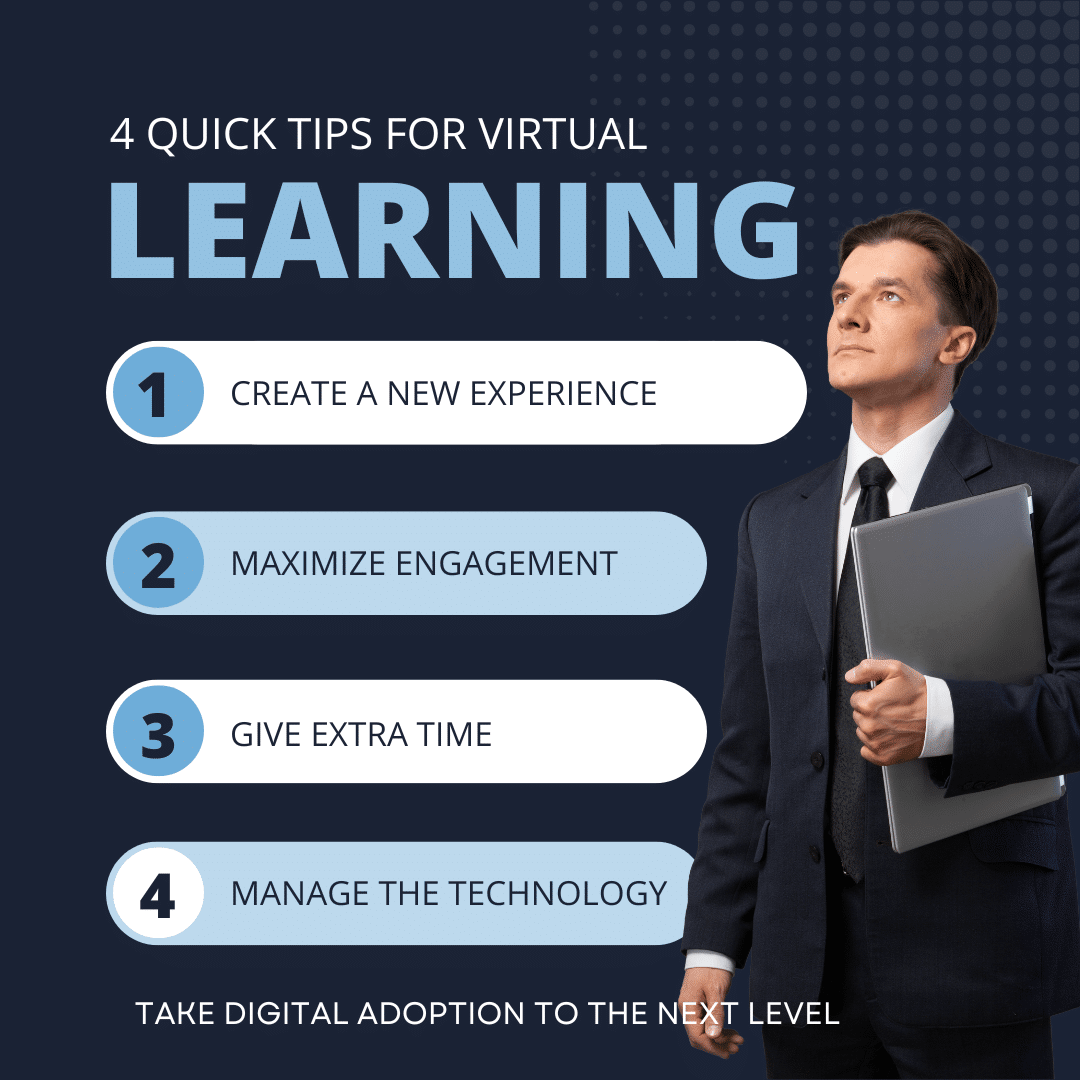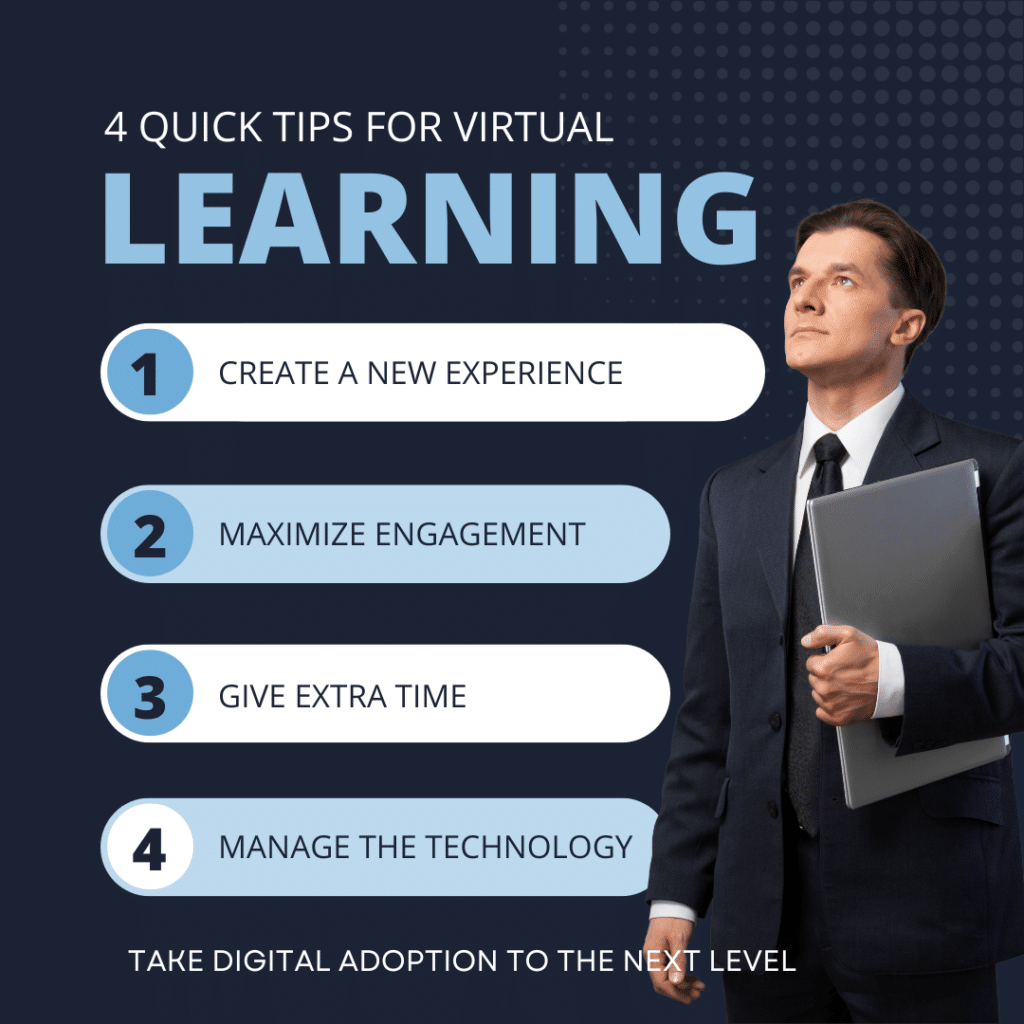 Learning on-demand should be in bite-sized chunks
The way the curriculum is built for eLearning & virtual learning is different than for traditional learning. eLearning should be presented in smaller, on-demand units so that learners can take the content and learn on their own. For event-driven learning, the trend is to record the sessions and make them available to view later and make sure that users are able to access just the part they need to know.
So much more than just a speech bubble
eLearning is not achieved by simply adding a speech bubble (which is like a GPS guide) to the existing software. This kind of system can help for rarely performed processes. If someone is performing the task (like an annual report) once a month or once a year, they do not readily transition the knowledge. Because without gps learning, people can't find their directions. This indicates that there's no knowledge transfer taking place from these kinds of instructions.

What is the future for digital adoption?
If a learning solution is solely dependent on a GPS-like function, there's actually a very good possibility that the entire adoption solution is not up to date. And that means that the day your GPS doesn't work, you're gonna have a pretty hard time even finding home, right?
Joachim Schiermacher, CEO ClickLearn
The future of digital adoption is on-demand
The trend is for learning to stay primarily virtual or digital. The learning is not only soft skills, but software skills. So that's what people are really talking about when they talk about digital adoption.
People are learning what they need to learn when they need to learn it, and they're not bothering to memorize. And so the idea on-demand, guided, bite-size learning for digital adoption, is a really important tool to provide for learners.
A structured approach to learning, where people need to attend a class or wait to get to the one thing they really want to know about the expense report, is becoming increasingly meaningless. It is important for people to be able to skip ahead. Especially with cloud-based technology and a climate of constant updates being forced on the user. People can't do one on-premises training on Excel and think that it's going to be good for 4-5 years anymore.


Learning and the composable enterprise
It's becoming more difficult to use standard, off-the-shelf training
Businesses use of applications is ballooning, growing year over year. These applications are combined to make every business package completely unique. With this change, it is more difficult to use standard training to learn processes inside a business because every process takes the user across a unique composition of systems in the business.
Off-the-shelf, vendor-based learning is increasingly difficult when it comes to digital platforms and the way businesses are composing their entire infrastructure. Learning organizations & departments need to have the tools on hand so that they can still successfully onboard and keep users up to date on specialized combinations of software that are constantly updated.

How important is having a learning technology (like ClickLearn) to Microsoft Partners when they deploy technology?
Learning helps businesses keep on top of changing technology
Requests for learning even basic computer skills are in high demand. This, according to Joachim Schiermacher (CEO ClickLearn) shows that digital adoption is moving through the organization down to entry level. Partners need to be able to ensure that the entire adoption system works and is kept current because more and more, if adoption is not successful, the partner is the problem solver.
More responsibility is being passed on to partners–especially since the pressure is on to deliver ever more projects with evergreen updates. Partners are expected to have a constructive idea around how to digitally adopt to a new platform. This is not limited to a training event, but extends to making sure that users are achieving maximum performance inside the application(s) that partners are delivering.
It's important to understand how these changes in technology are affecting business and operations. Learning has become a much larger part of the business and digital adoption needs to be built in. It's important for Microsoft partners to keep on top of changing technology and be able to provide affordable, effective learning to clients. Options for eLearning, guided learning, live or virtual classes, and even one-on-one learning are no longer optional but necessary.