ClickLearn is the leading provider of user adoption software that automates the process of creating user instructions, e-learning, and process videos for business software.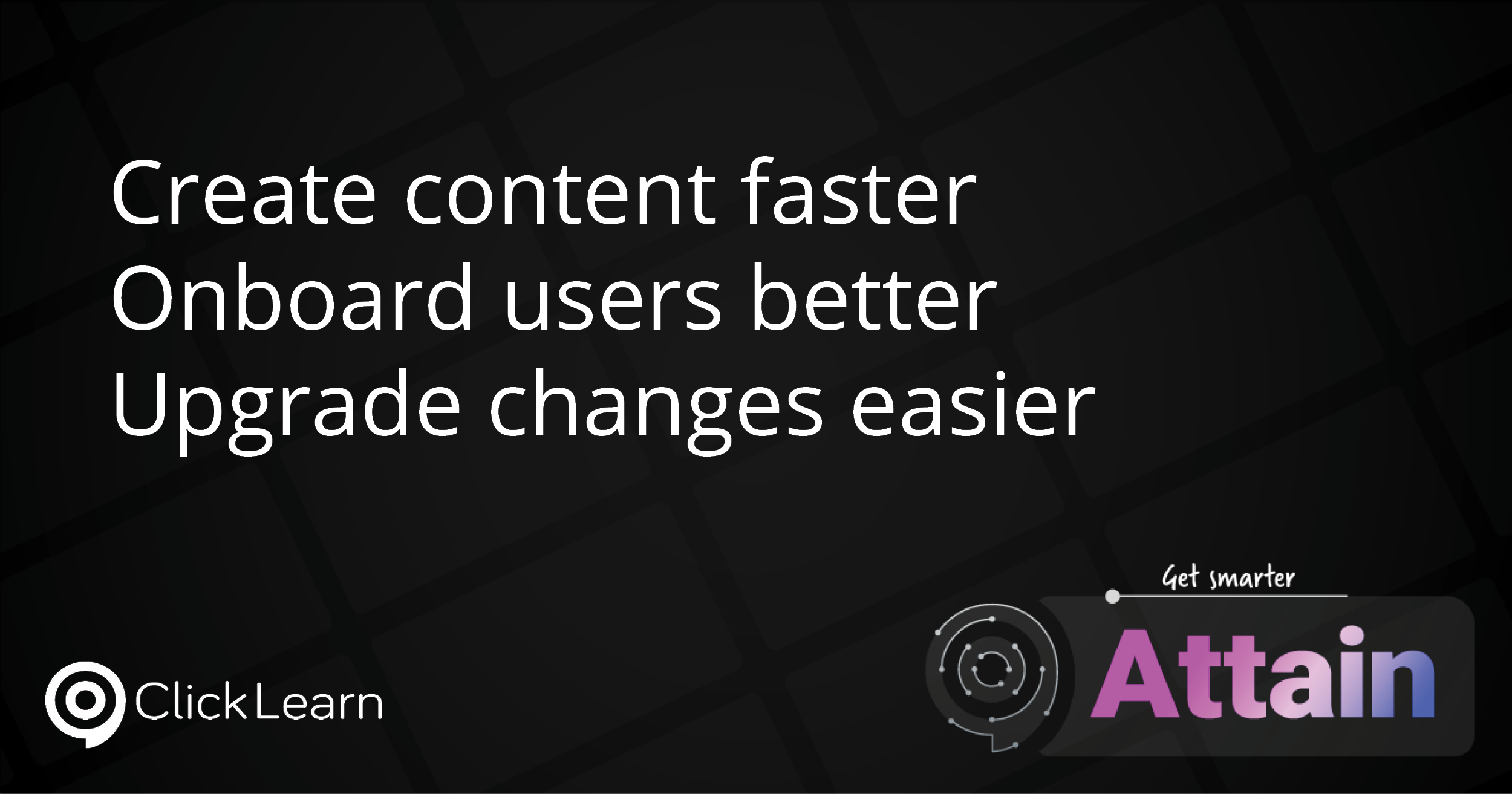 On October 2, ClickLearn will be launching a new release of its onboarding and training software under the name Attain. This marks a complete redesign of the ClickLearn application to create a fantastic user experience with over 200 new features! ClickLearn Attain offers faster results, ease-of-use, and unparalleled collaborative experiences in the creation of content for training and documentation.
ClickLearn Attain is a key player in user adoption across business systems. Globally, more than 650 enterprise customers and over 8000 trained authors use ClickLearn to automate the creation of content for documentation and training. To address the different learning styles of employees, you can use the application to produce materials in a wide variety of formats and languages from a single click. The automation of the content creation process creates considerable savings for organizations in terms of costs, resources, and time.
With its in-app assistance that guides users from inside their business systems, ClickLearn ensures that users are quickly onboarded and re-enabled in any business software. One of ClickLearn's greatest strengths is its automated Replay feature that automatically updates content when there is a change or an upgrade to the business software – ensuring that training content is always up to date.
The ClickLearn team has spent the last year collecting and implementing feedback from its customers and users and this release is the result of all their hard work. ClickLearn Attain offers its users an improved user experience, over 200 new features, an increased focus on collaboration, in-app guidance, and built-in support to ensure the best in user adoption functionality.
Whether you are new to ClickLearn or one of the 8000 experienced ClickLearn authors, if you want to see what the future of user adoption looks like, join the Get Smarter Attain launch party on October 13.
Read more about the new features here
Virtual Attain conference info.
Watch a video with ClickLearn CEO and founder Joachim Shiermacher here.