DuraServ was using three distinct software applications to manage their operations, and they saw the benefits of migrating to a modern, integrated platform by adopting Microsoft Dynamics 365.

However, ensuring that the numerous stakeholders across their organization could learn the new system quickly and efficiently was no small task. Creating training content to meet the needs of a diverse and distributed workforce could potentially take months and be difficult to keep up to date as their new solution continues to evolve with their internal requirements. 
To stay on top of updates, they needed to be able to create training content in half the time it was taking them with existing processes.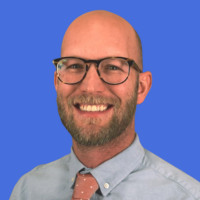 Creighton Hulse – Learning & Development Manager 
Creighton Hulse, Learning and Development Manager at DuraServ, shares some of his experiences with ClickLearn and how it has greatly accelerated their content creation processes and made training materials more accessible. 
I had projected a full six months to create a complete set of training materials for Dynamics 365. Once we began to use ClickLearn, that timetable was reduced by 80%.
Creighton Hulse, Learning & Development Manager for DuraServ
The team at DuraServ heard that ClickLearn was tightly integrated with Dynamics 365 and came highly recommended as a tool to assist in rapid user adoption.

They progressively customized Dynamics 365 for each department and role and tested it in a sandbox environment. The resulting user feedback helped them ensure optimal results.

Once development stabilized, they were able to quickly create training content in half the time. Their ClickLearn-produced content incorporated these company-specific customizations, preparing them to deploy Dynamics 365 office by office and for the training activities to come.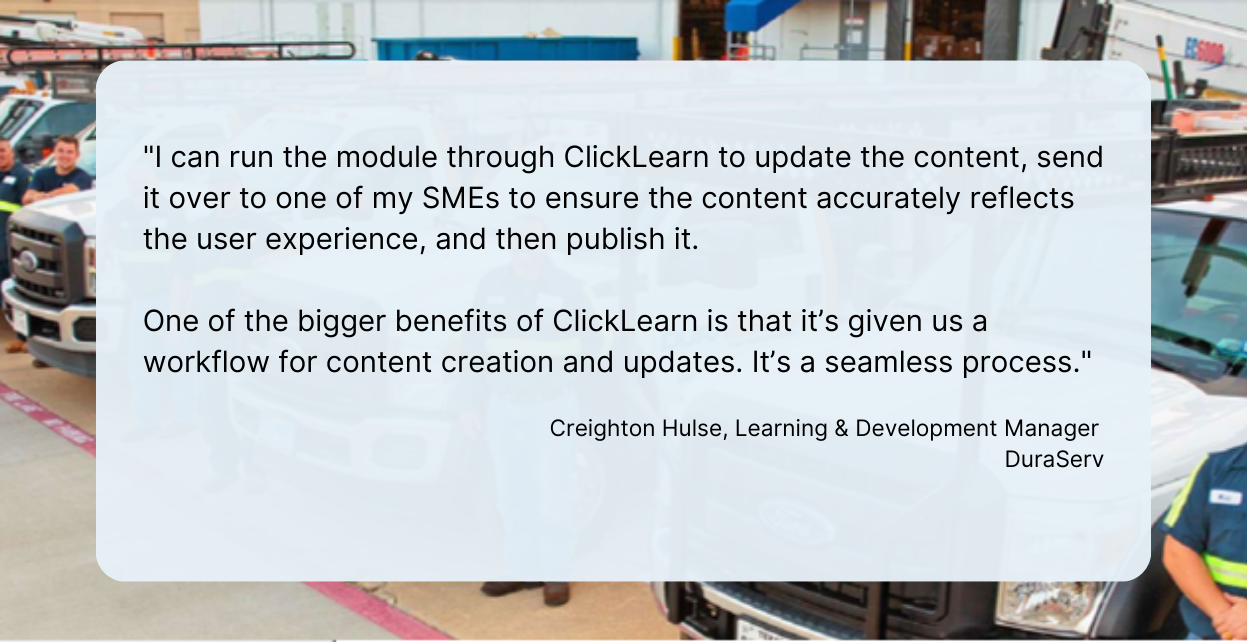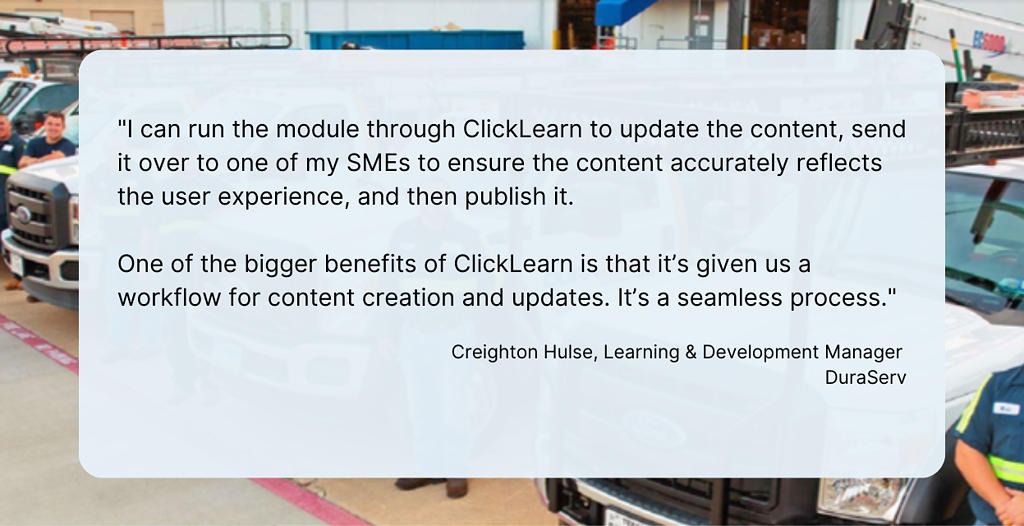 DuraServ's previous content creation process consumed a great deal of time and resources.
Creighton relates: "We would have to coordinate a screen recording, give it to a video editor for cleanup, have a third-party voiceover artist record the audio, then create a PDF document of the process along with a knowledge check at the end. It involved more people and a lot more time."
Now, much of the process is automated by ClickLearn. 
I needed custom CSS code to ensure the video would be sized correctly. Since I don't know CSS, I asked for help from customer support, and they were really quick to provide a solution. Working with them has been a great experience.
Creighton Hulse, Learning & Development Manager, Duraserv
Free up capacity when you create training content in half the time.
Just how much time has it saved them?
Creighton explains: "I had projected a full six months to create a complete set of training materials for Dynamics 365. Once we began to use ClickLearn, that timetable was reduced by 80%."
What have they been able to accomplish since then?
Creighton tells us: "ClickLearn has freed up a lot of capacity in our Learning & Development department. We have been able to divert those resources to other programs and initiatives which were initially slated for later in the year."
Collaborative development.
Creating all the learning content needed for DuraServ's deployment is not a one-person job. 
With ClickLearn, multiple people can contribute to the development of a piece of content. "Our Sales and Coordinator SMEs (Subject Matter Experts) created the original recordings. We used the collaboration tools within ClickLearn to create notes, color-coordinate the development stages, and perfect the content before publishing," Creighton notes.
Learning materials in multiple formats.
With seven learning formats available, ClickLearn produces the right learning format for any training situation. It creates PowerPoint slides that are ideal for classroom training, as well as interactive videos for self-learning.

Materials are available in .pdf or .docx (Word) for printing and sharing, and HTML for use in SharePoint or on your website.

In addition to the online learning tools, Creighton promotes the use of printed materials. He remarks: "I like the flexibility of directing the user to a PDF that they can print and keep at their desk, or to the training videos to revisit a module, depending on their needs."
A structured learning program.
"When an office is ready to deploy Dynamics 365, we send everyone a link to our learning portal within SharePoint," explains Creighton. "There they have a list of training modules to complete. They can practice as much as they like, then complete the required exercises before going live."
Thanks to ClickLearn's built-in monitoring and evaluation of user content consumption, DuraServ's Learning & Development team alongside their Training Department can see how employees are coming along with their training and offer assistance as needed. Creighton says: "I created a dashboard to see who's doing what, and how often, or if they've even logged in recently."
Dynamics 365 is constantly improving, and a company's processes may also change over time. Such changes necessitate training material updates.

ClickLearn replays the processes and gathers new screenshots to automate much of the needed adjustments, while the automatically generated narrative remains fully editable so the user can make any necessary changes.

Creighton comments: "I can run the module through ClickLearn to update the content, send it over to one of my SMEs to ensure the content accurately reflects the user experience, and then publish it. One of the bigger benefits of ClickLearn is that it's given us a workflow for content creation and updates. It's a seamless process."
Creighton estimates that their former process might have required a full-time employee as much as two weeks to update their training materials. With ClickLearn, he says, that could be reduced to as little as two days.
Although the Learning & Development team at DuraServ has fallen in love with ClickLearn, having the name front-and-center could have caused some difficulties.

One of their former software solutions had a similar name, so they wanted to avoid users confusing the new training materials with the old software.

"I think the ability to embed the training materials in our SharePoint site, although it seems like a small thing, was really helpful for us. Removing the ClickLearn brand let the materials blend into our other content and thus was one less new application for our staff to learn."
Well-received by end users.
Training software should not get in the way of the learning experience.

It should be easy to use so that employees can get on with their jobs. How did the end-users at DuraServ fare with ClickLearn?

Creighton says: "There's been no question of how to use our training tools. At the bottom of the page, there is the option to leave feedback. We've gotten nothing but good or great ratings."
ClickLearn is invested in the success of its customers, and DuraServ has been no exception.

For example, Creighton came across a minor technical snag when trying to embed generated content in a webpage. He relates: "I needed custom CSS code to ensure the video would be sized correctly. Since I don't know CSS, I asked for help from customer support, and they were really quick to provide a solution. Working with them has been a great experience."
ClickLearn's functionality has impressed everyone at DuraServ. In fact, they're examining the possibility of expanding its use beyond Dynamics 365 to train employees on standard operating procedures for the company.
Would DuraServ recommend ClickLearn to others? "Yes!" says Creighton. "With something as complex and customizable as Dynamics 365, the ability to automatically update training materials is a huge benefit."
In summary, ClickLearn played a critical role in the rollout of Dynamics 365 across DuraServ's 30 offices, facilitating rapid user adoption of their new software, which drives a much higher return on their investment.

Additionally, instant access to training materials when the users need them most ensures they receive the required assistance while reducing strain on support staff. DuraServ will continue to benefit from ClickLearn for years to come.
DuraServ is the North American loading dock, door, and equipment industry leader. They provide comprehensive 24/7/365 service to major clients with large facilities, spanning from coast to coast across the United States and in key markets in Canada. 
Starting in 2001 and rebranding in 2016, DuraServ has grown to some 37 divisions and an expanding team of more than 800 employees to quickly serve the needs of their clients in this fast-paced market.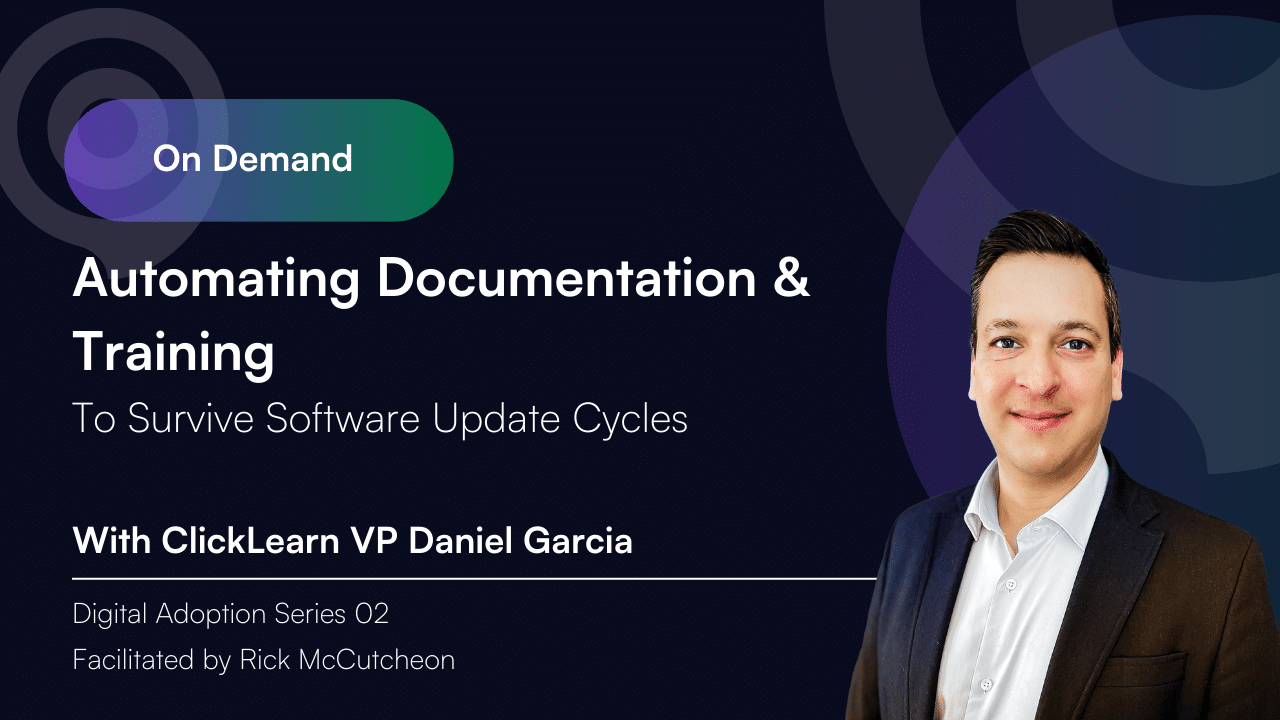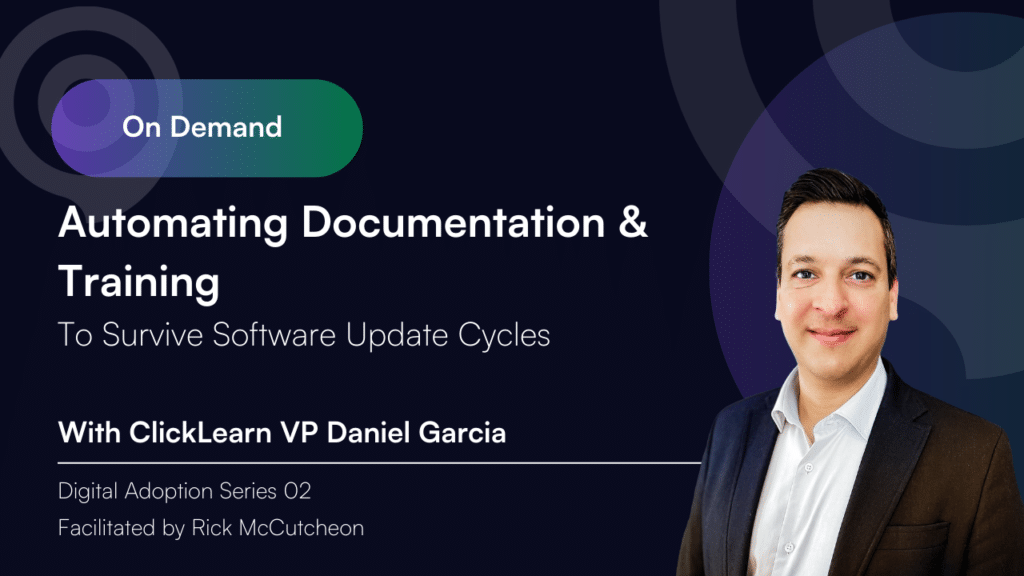 Is documenting manually taking too long?
That's a major sign that you need a scalable model for training and support. But there are more. In this on demand webinar, experts outline what you need to look for at your company.