AI-driven software training​
AI-Powered Chat
Learning in the flow of work
AI-powered chat
Personalized in-app guidance
Employee training on autopilot
Get updates in the moment of need
Learn while you work
Communicate with users live
Customizable and modern look and feel
Collect all assets
Centralized notification management
AI Chat
Centralized notification management
Customizable and modern look and feel
Collect all assets
ClickLearn Attain is renowned for its unmatched capabilities in auto-creating and auto-updating learning content across your entire software stack – and now we are taking this to a new level with the User Experience Panel (UXP). Your digital companion that operates inside and across all the software platforms you use.
The new User Experience Panel delivers:
Personalized in-app guidance and videos on how to use any system optimally.
Conceptual information about people's job functions, the company itself, the policies, values, and anything else you feed into the User Experience Panel.
An AI-powered colleague who knows when and how to do things correctly.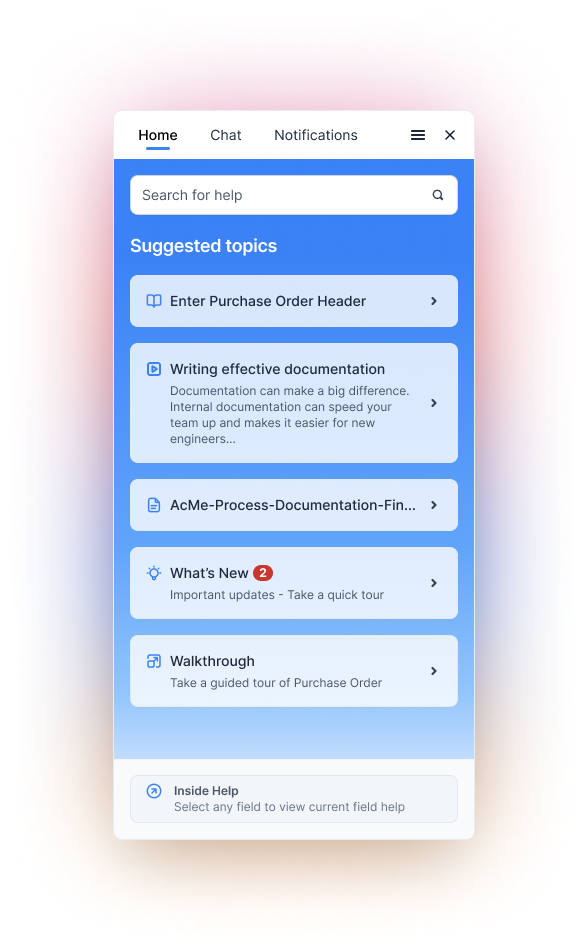 AI-Powered Help Chat
It can be hard to find the right people with the right knowledge in the moment of need. The AI-chat is a dream colleague, who is always available when needed and with the exact authoritative knowledge about any company or software-specific topic relevant to the employees.
Onboarding on Autopilot
Onboarding new or existing employees into a job role takes a lot of resources and time. That is why the new onboarding tours are a complete game changer! The User Experience Panel knows where people are in the software and what roles they have.
Learning in the flow of work
Learning while also working is a very interruptive challenge everyone face. We have solved this for you! Employees can now get all the help they need from all sources in their flow of work without leaving the system or having to interrupt others.
Updates in the moment of need
Large and small software changes happen all the time and the more frequent update cycles in the software industry simply makes it impossible to stay up-to-date. The UXP solves this by providing 'What's new'-guidance and personalized notifications at the exact point of need them - on-time every time.
Raise your corporate IQ
Ensure that the corporate knowledge is kept within the corporate boundaries - not inside the minds of an ever changing workforce. Gain an instant upgrade on the collective intelligence of your organization by deploying the User Experience Panel. New and existing employees will feel the upgrade on their productivity, and job satisfaction.
ONE system across the stack
No software stands alone! Companies have an average of 178 software systems implemented each with 2-4 updates every year. ClickLearn is a one-stop shop that helps create, maintain, and distribute training and knowledge updates ACROSS the software stack in a 1-to-1 learning experience for everyone.
We're bringing a new paradigm to the learning of software. Say goodbye to months of training and say hello to productive employees from day one.
Joachim Schiermacher
Chief Executive Officer
Get notified in your inbox as we release!
The only digital adoption platform with automatic updates and AI-powers
Join us for a live look at the launch event! 
Workflow learning podcast
On Microsoft Copilot and ClickLearn's integration with OpenAI
Learning in the moment is vital for Joachim Schiermacher, CEO ClickLearn