Why do ERP implementations fail?
More often than not, the reasons for ERP implementation failures come down to poor planning, lack of funding, unrealistic expectations, and insufficient training and support.
ERP implementations often get a bad rep due to a handful of disastrous and publicised ERP implementation failures. These often circulate in headlines for weeks and can result in court cases, lost market credibility, and a stock price taking a nose dive.
Thankfully, all ERP implementations don't have to end in chaos. By researching the main causes of some well-documented ERP implementation fails, you can avoid making them yourself.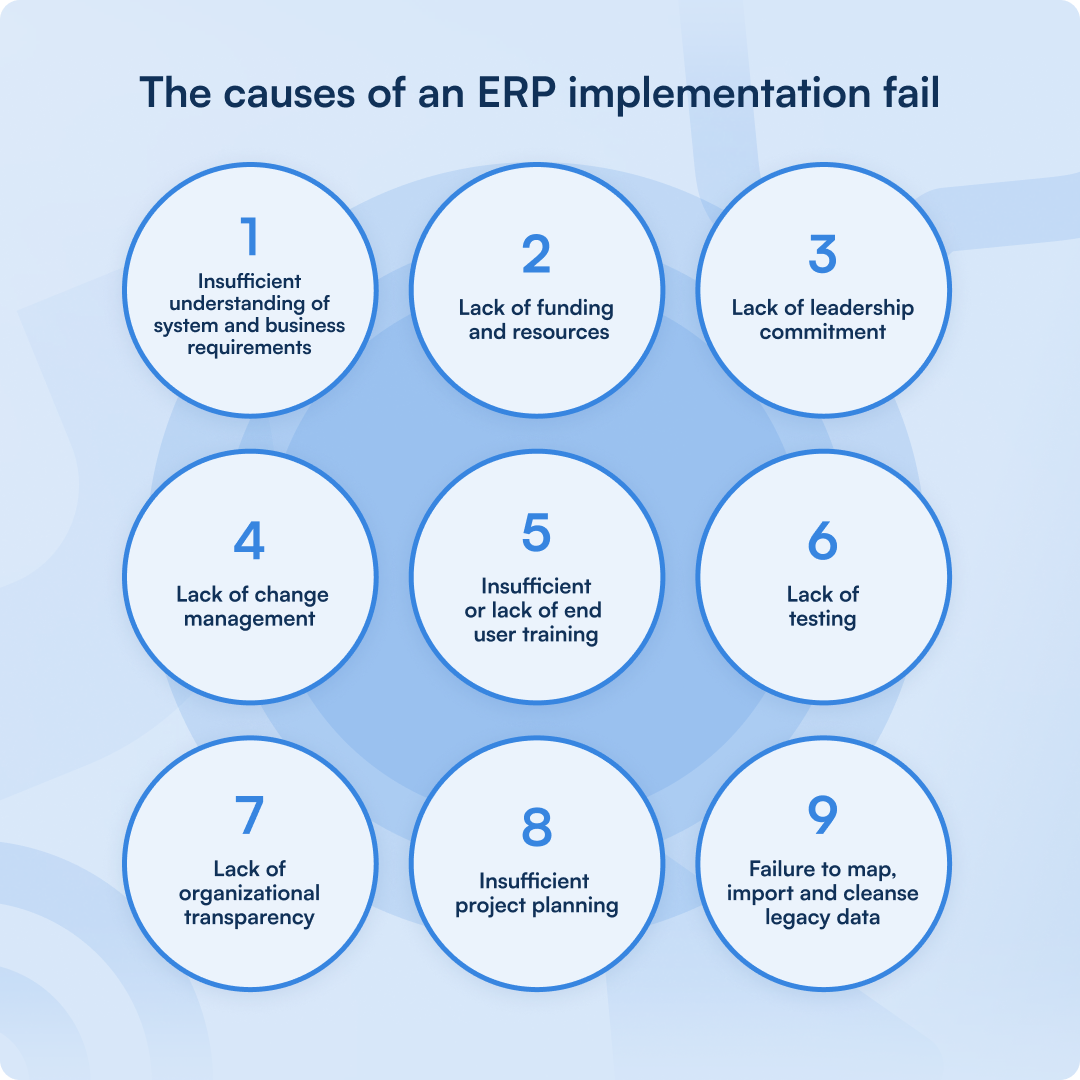 The causes of an ERP implementation failure
While each organization and their ERP software is unique, there are some common causes that cause ERP implementation fails, including:
Insufficient understanding of system and business requirements
Lack of funding and resources
Lack of leadership commitment
Lack of change management
Insufficient or lack of end user training
Lack of testing
Lack of organizational transparency
Insufficient project planning
Failure to map, import and cleanse legacy data
The more complex the ERP implementation process, the more likely it is that there are multiple reasons for the project failure.
Insufficient understanding of system requirements
How many organizations have spent millions of dollars on new systems, only to realize that the software doesn't actually help with streamlining operational processes?
Not understanding or fully mapping out what processes the new ERP should solve can result in a failed attempt at an ERP implementation. The core team members should all be involved in the decision-making and initial planning process.
Lack of funding and resources
Unfortunately, ERP systems often rack up costs, both before and after successful implementation.
It's not uncommon for overly optimistic financial forecasts, and more often than not, the budget overruns. Look for a solution that works within your designated budget, but also account for potential ongoing support after the impelementation.
Lack of leadership commitment
Internal resistance should be a tell-tale sign for a failed ERP implementation.
While it is possible to successfully launch a new software without committed leadership, you risk not reaping all the benefits from your digital transformation. End users can remain unmotivated and discouraged to switch to the new software.
Lack of change management
Often, big project costs associated with big software rollouts can be mitigated by ignoring the importance of effective change management.
At its best, properly organized change management helps ensure that all intended results and outcomes are reached by supporting individual transitions. This means that, for a successful ERP implementation, all employees meant to use the new software are able to adopt and use it in their daily lives.
ERP systems don't automatically solve all problems within the manufacturing cycle or other operations. The effectiveness of an ERP system is directly derivative to how well the end users know how to use the software to automate routine tasks.
If the end users of the new software aren't adequately trained, you risk decreasing the productivity of your employees, alongside data accuracy. Chances are that an unfamiliar software that users find hard to use discourages and demotivates the workforce further.
Disregarding or rushing the testing phase of software implementation can have huge consequences.
Lack of testing can cause internal chaos post-launch, especially if you encounter supply chain-related problems, like issues with contractor invoicing or lack of oversight of financial data.
Lack of organizational transparency
There are two critical mistakes that a team can make during any software rollout process.
Firstly, the implementation team should clearly communicate the goals and timelines of the project internally, so that each department knows when to expect to switch to the new ERP.
Secondly, the team should keep open and transparent log of the whole process from start to finish. This means having internally available meeting notes, project updates, and other important information readily available. This helps to get others up to speed in case there are any changes within the core team at any point during the project.
Insufficient project planning
Like with any project, well planned is half done.
Rushing the initial planning phase can result in overlooking or missing important aspects of the ERP implementation as a whole. By not mapping out which departments need access to the new software, you could cause a lot of problems post-launch.
For instance, you could be dealing with wrong people having access to the wrong things, end users not knowing how to best use the software to automate routine tasks, or making decisions based on inaccurate or downright faulty data.
Failure to map, import and cleanse legacy data
It's quite rare for an organization to not have existing data when an ERP implementation is considered.
In order to reap the proper benefits and get a return on the initial software investment, it's important to understand the types of data that already exists, and how it's been categorized and managed historically.
If legacy data isn't considered during the ERP implementation process, you risk having skewed data in your new system, and lacking historical insights on things like purchasing trends or past sales figures.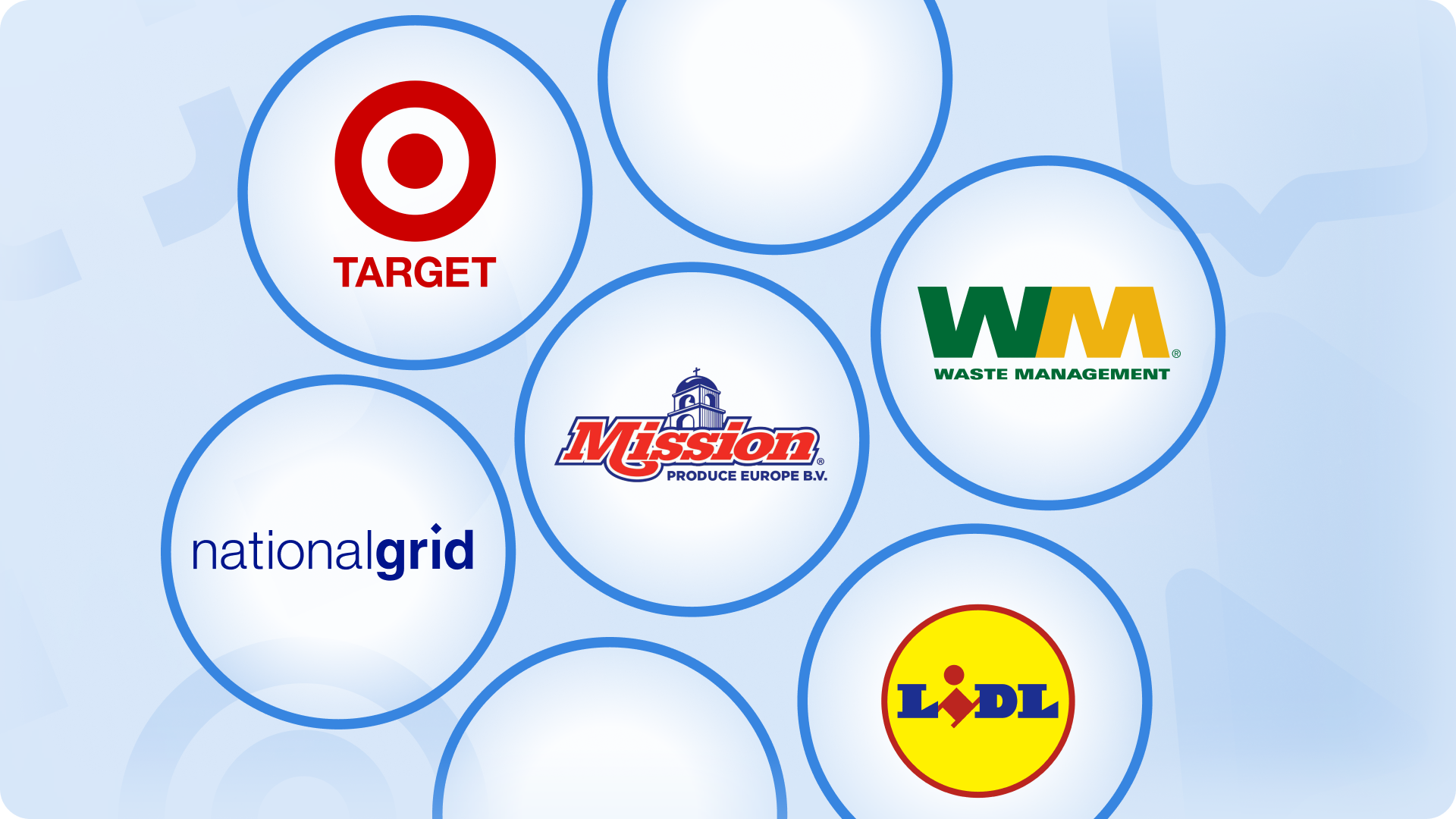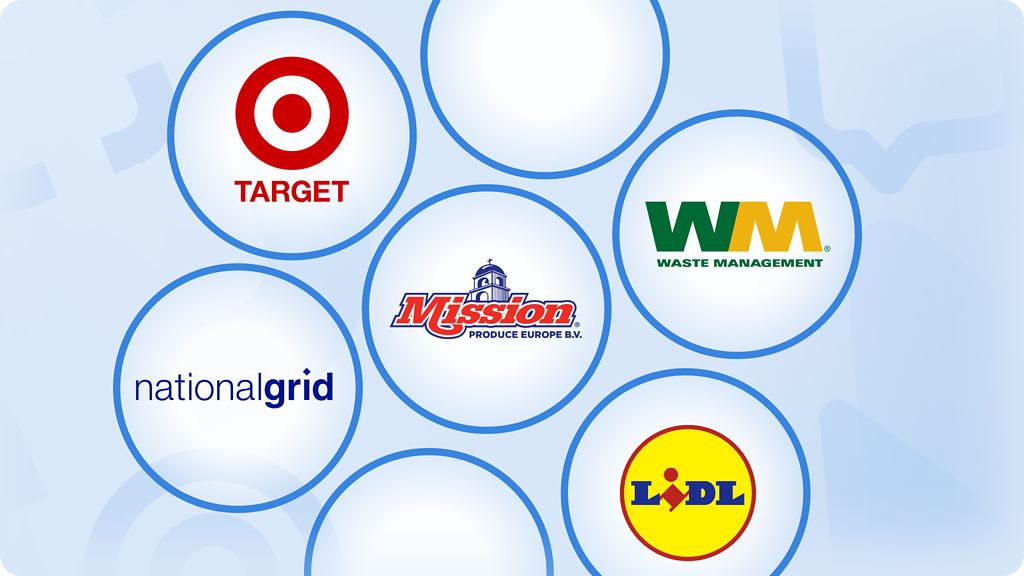 Top 5 ERP implementation failures
The bigger the organization, the more variables are at play when it comes to any software rollout. Regardless of the size of your company, learning from others' mistakes can help you prepare better for an ERP implementation at your organization.
Case study: Target Canada
Main issue: Insufficient end-user training
When Target expanded to the Canadian market in 2013, the team was optimistic about avoiding the typical ERP failures. After all, they had a new system in place and no legacy data to cleanse and convert.
Unfortunately, due to lack of end user training, data input was done wrong by inexperienced employees. With thousands of incorrect manual entries, the company's supply chain quickly collapsed.
It's easy to assume that by simply having a new ERP system will fix all existing processes. The truth is that unless you allocate resources towards employee training, it won't matter how good your ERP features are. If end users input wrong data and make serious mistakes in configuring the software, you're unlikely to see the benefits of your ERP solution.
Case study: Waste Management
Main issue: Insufficient project planning and implementation
Sometimes, an ERP implementation fail can result in a more public spat between the ERP vendors and their clients.
In 2008, trash-disposal company Waste Management sued SAP, an ERP vendor, for $100 million claiming the ERP software to be "undeveloped, untested and defective" for the US market.
What was originally meant to be an 18-month long ERP rollout ended up lasting several years and costing Waste Management $350 million in lost sales on top of the initial implementation cost of $100 million.
Case study: National Grid
Main issue: Insufficient project planning and inadequate testing
Any complex ERP implementation project will require comprehensive testing and configuring before launch. If the implementation team fails to account for all the main variables present in the ERP project, the chances of delays increase.
This is what happened to the utility company National Grid. Worried about missing their already overdue rollout date, the organization had to launch their new ERP system in the midst of the aftermath caused by Superstorm Sandy.
The ERP failure touched multiple different business processes: employees were under- or overpaid, vendor invoices went unprocessed, and financial reporting flaked out. The company ended up filing a lawsuit against their SAP ERP vendor Wipro, settling for $75 million – unfortunately, the settlement wasn't enough to cover for all the losses caused by the ERP failure.
Main issue: Lack of organizational transparency, problems with data migration
ERP solutions should be tailored to each organization's business processes. But when in-house legacy systems rely on logic that differs from the market standard, issues can arise.
This was the case with the supermarket chain Lidl and SAP (ERP system provider). As Lidl was keen on not changing the way it managed its inventory, the SAP implementation had to be heavily customized. After spending nearly €500 million on the ERP implementation, the project was eventually scrapped after 7 years.
On top of navigating the inventory logic of the legacy system, the project saw a high turnover in Lidl's IT department leadership. This resulted in interorganizational problems with transparency and eventually the blame was shifted to the consultancy in charge of the SAP ERP system.
Case study: Mission Produce
Main issue: Insufficient understanding of system and business requirements
ERP projects fail for many reasons, but more often than not, ERP functionality isn't fully understood until botched implementation.
This happened to the fresh produce brand Mission Produce. Despite spending hours and hours planning and preparing for the ERP rollout, the implementation was riddled with problems.
The system was meant to support international growth by providing the teams better visibility of their business operations and financial reporting. Unfortunately, the reality was far from this. The orgnaization lost track of their inventory, and had to rely on contractors while the problems were fixed, affecting the company's profit margins.
The ERP failure was so severe that the business had to hire external consultants to fix the new ERP, costing the company nearly $4 million.
Case study
success stories
Avoid ERP implementation failure in your organization
Keep your own market credibility intact and avoid ERP implementation failure in your organization by conducting thorough research and testing practices from day one. 
Realistically evaluate the system requirements that best support your organization's daily operational processes. Ensure proper role-based end user training is carried out, and that all teams are on the same page when it comes to budget and time constraints. 
Get proper return on investment and unlock new levels of growth with a well planned ERP implementation.